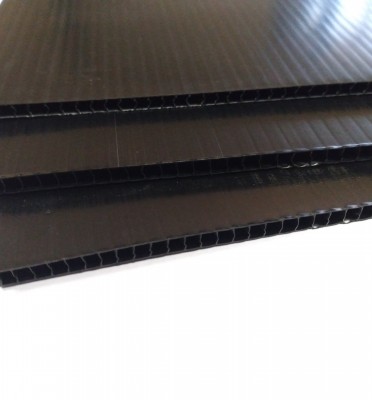 Detailed Product Description
| | | | |
| --- | --- | --- | --- |
| Surface Resistance: | 10^4 Ω/m^2 - 10^9 Ω/m^2 | Thickness Of The Sheet: | 4mm |
| Color: | Black | Material: | Fluted PP Sheets With ESD Additives |
| Dividers Inside: | Available | Customization: | Available |
| Printing: | Single Color Printing Available | Feature: | Plastic Stripe Frames With Corners For Stacking Up |
* CÔNG DỤNG:
- Làm thùng, hộp chứa sản phẩm trong các nhà máy sản xuất ô tô - xe máy, sản xuất hàng điện tử, hàng may mặc và chế biến thực phẩm.
- Làm khay, vách ngăn đựng linh kiện điện tử, linh kiện ô tô - xe máy và nhiều loại sản phẩm khác.
- Làm tấm lót cho túi siêu thị và làm tấm quây cho xe chuyển hàng trong nhà xưởng.
* ƯU ĐIỂM:
- Cách ẩm tốt, có thể sử dụng được nhiều lần. Với cùng một kích thước thùng nhựa PP Danpla sử dụng bền hơn thùng carton khoảng 60 lần.
- Đảm bảo vệ sinh an toàn thực phẩm và không bị phản ứng trong môi trường hóa chất.
* Đặc điểm:
- Tấm PP Danpla có độ bền cao được sản xuất từ Polypropylen bằng phương pháp đùn.
- Cực nhé, cực bền, với các tác nhân nước, dầu và các hóa chất khác.
- Với độ co giãn không đáng kể nên có hiệu quả tốt với mục đích cách âm, cách nhiệt.
- Tấm PP Danpla được sản xuất với cấu trúc có khoảng trống bên trong.
- Tấm có độ dày từ 2-8 mm
- Kích thước tiêu biểu: 1.220 X 2.440 mm.
general physical characteristics
The density of the polypropylene is about 0.9 g/cm3 which is one of the lightest plastic material. With this hollow construction plus the light material, the sheet has a very important feature of light-weight.
The general physical characteristics of the corrugated plastic sheets is as follows.
Thickness
2mm
3mm
4mm
5mm
6mm
7mm
Density      GSM      
300-600
350-800
600-1300
800-1500
900-1800
1000-2000
Color
any color available
any color available
any color available
any color available
any color available
any color available
Surface Tension *(dyne/cm)
35
35
35
35
35
35
breaking strength
along the flutes
>160 N
>170 N
>190 N
>200 N
>210 N
>220 N
across the flutes
>140 N
>150 N
>160 N
>170 N
>180 N
>190 N
ultimate elongation
along the flutes
150%
150%
150%
190%
190%
190%
across the flutes
40%
40%
40%
50%
50%
50%
* for polypropylene material
Abundant Colors
Naturally, the color of the sheets is transparent as pictures below.
Stable Chemical Properties
The sheet is non-toxic, odorless with the inert chemical property. These characteristics let the sheets be the perfect material to make plastic boxes /containers to store foods.
Unlike the paper cardboard which loses its rigidity when absorbing the water, the corrugated plastic sheets are water and moist repellent which is suitable for the applications which need against the wet environment, and the boxes which are made from corrugated plastic sheets can be washed up for reusing many times. Furthermore, the sheets are not only repellent to the water, but also resistant to oils, almost all organic solvents at room temperature. 
Widely Used in Many Industries  
With these properties, the corrugated plastic sheets are incredibly versatile, and could be used for many different purposes. The popular usages are as follows.
1. to make corrugated plastic boxes in many industries, such as machine components boxes, moving boxes, fruit & vegetable boxes, drilling core box etc.
2. to make plastic dividers ( tier) sheets for bottles/cans transportation
3. as the temporary protection sheets  for wood or marble floor during decoration 
4. can be printed as yard signs
5. as roofing sheets for greenhouse, livestock house, dairy barns
6. tree guard 
And the products which are made from corrugated plastic sheets can be re-melted to make new sheets when broken. So they are recyclable, and environment-friendly material. 
Our factory can offer customized corrugated plastic sheets according to your needs. Welcome send inquiry to us.